2015 Patients' Choice Award Recipients
"We Need Something BETTER: Patients' Perspectives on a Novel Approach to Chronic Disease Prevention and Screening"
AUTHORS: Nicolette Sopcak, Candace Nykiforuk, Carolina Aguilar, MaryAnn O'Brien, Kris Aubrey-Bassler, Richard Cullen, Melanie Heatherington, Eva Grunfeld, Donna Manca
"Engaging the Community in Identifying and Prioritizing Outcomes for Integrated Primary Care Behavioral Health"
AUTHORS: Nancy Pandhi MD MPH PhD, Nora Jacobson PhD, Natalie DeCheck BS, Zaher Karp BA, Elizabeth Zeidler-Schreiter PsyD,  Neftali Serrano PsyD, Armando Hernandez PhD
"The power of video animations on health care knowledge and seeking behaviour"
AUTHORS: Doaa Farid MA, Gillian Bartlett PhD, and Ellen Rosenberg, MD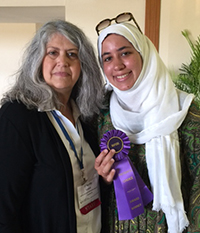 2014 Patients' Choice Award Recipients
"Does case management address the needs of patients with mild dementia and their caregivers in community-based primary health care? A mixed methods study design."
AUTHORS: Vladimir Khanassov, MD, MSc, Resident in Family Medicine and Isabelle Vedel, MD, PhD, Assistant Professor, McGill University
"Knowledge, Practices and Attitudes on Diabetic Foot Care among Patients with Diabetes at the Family Health Clinic at the University Hospital Robert B. Green Downtown Campus in San Antonio, TX"
AUTHORS: Anna Cecilia Tenorio, MD; Robert Ferrer, MD; Sandra Burge, PhD, Fozia Ali, MD, Babaran M; Del Rosario A; Estacio M; Herman S; Lopez G; Vasquez A, The University of Texas Science Center at San Antonio